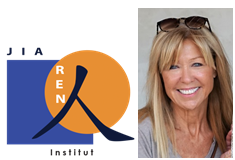 Happy Holidays and New Year 2022!
At the dawn of this New Year, I am happy to announce the birth of the Jia Ren Institute. After 10 years of activity with Ecole Dao, Bernadette Harvengt and I have opened our wings and founded our own Jia Ren Institute We wish to pursue  teaching traditional Feng Shui. We are simply adding more concrete exercises, practice and a certification in Canada or Belgium if you wish! The basics remain the same but you will have the opportunity to work practical cases.
A new training will start on February 19 and 20, 2022 and for those of you whose training is in progress, we will continue our course considering dates that suit you (following the evolution of this pandemic…).
For the next year 2022 of the Water Tiger, I wish you:
A gentle and skillful navigation of your journey,
Stars that shine for you and guide you towards your ultimate goal
A body and mind filled with energy
Thoughts filled with love, generosity and gratitude
Determination to follow through on your plans
A year in which you will make a difference in your life as well as in the lives of others!
With Love, Adele
adeledionne@gmail.com